In the latest edition of the Chicago Lawyer, the prestigious Jury Verdict Reporter's (JVR) Settlements Report for 2023 takes center stage. MDR LAW LLC proudly secures its place among the top 30 law firms in Chicago for personal injury settlements this year.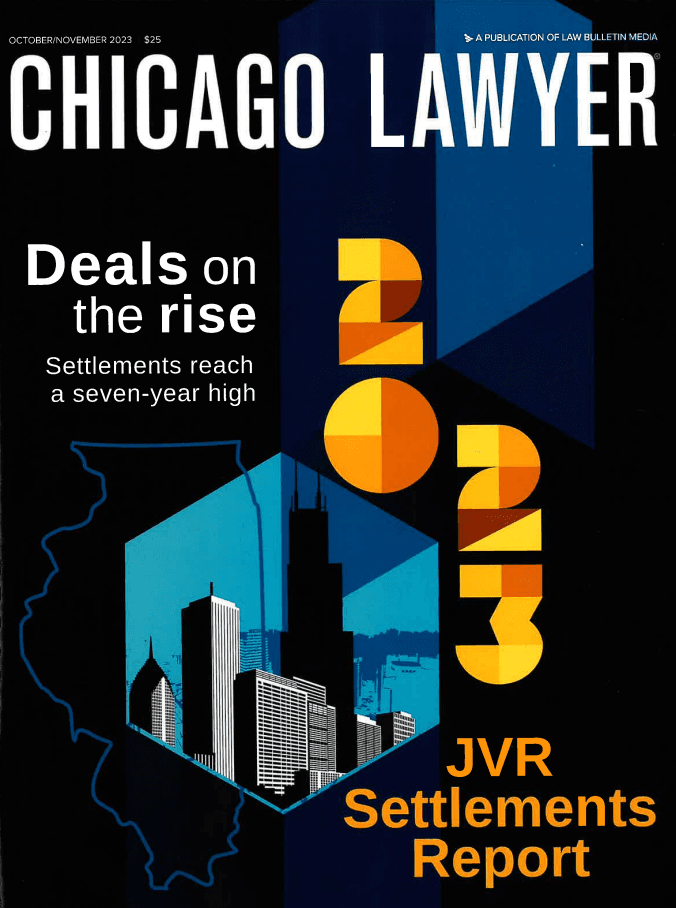 The 2023 JVR Report unveils an astonishing 163 settlements, each exceeding $2 million, setting a new record for JVR. Notably, MDR LAW LLC emerges as a standout, ranking among the 103 firms recognized for their remarkable achievements. This report encompasses business cases in its comprehensive total, showcasing the exceptional legal prowess of firms in the Chicago legal landscape.
The publication's vigilant editors, assessed 439 cases totaling over $1.39 billion and every firm successfully concluding settlements of $500,000 or more was highlighted. The submissions to the Jury Verdict Reporter covered a diverse range of cases and spanned from August 1, 2022, to July 31. Notably, the report witnessed a striking benchmark—the average settlement value surged by an impressive 48% to $2.9 million, marking a significant increase from the $1.9 million recorded in 2022. This surge underscores the growing impact and success of legal practitioners in securing substantial settlements.
MDR LAW LLC, with a stellar performance, notched an impressive seven cases in the report. Partners Scott H. Rudin, Martin J. Lucas, and Lauren Levin Budz, along with Associates Florina Bandula and Joshua M. Rappaport, collectively achieved settlements exceeding $10 million. Their exceptional contributions underscore the firm's commitment to delivering justice and substantial compensation to our clients.
As a beacon of legal excellence, MDR LAW LLC boasts some of the most experienced trial lawyers in Chicago, assuring clients that seasoned litigators handle their cases. Specializing in a diverse array of personal injury cases, from motor vehicle accidents to medical malpractice and work-related incidents, the firm has, since 2005, secured over $250 million in verdicts and settlements for its clients.
With a legacy of over 250 years of combined trial experience, MDR LAW LLC stands as a testament to its prowess in winning cases. Your case deserves nothing but the best.
If you're seeking a dedicated legal team to fight for the compensation you deserve, contact MDR LAW LLC today.